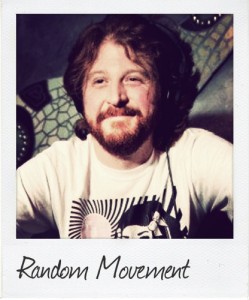 "Not old music, not new music, just good music" is the Random Movement DJ'ing motto, an ideology that has carried his career to multiple performances at major club's and festivals across 4 continents. Ever since climbing onto the soulful drum and bass vibe 9 years ago, his production skills and DJ technique have pushed him to the forefront of state-side drum & bass. Heads both old and young pack the clubs to hear his particular deep and uplifting vibe as he takes the crowd to big grins and smiles all around.
With help from friend and fellow producer and DJ Marky, the epic Bassbin smasher "Stars in the Dark" hit in 2005 and flew up the charts, helping to put Random Movement firmly on the map. Since then the releases and collaborations have been pouring forth, with projects including Mixmaster Doc, S.P.Y and Redeyes to name a few. His tracks have turned many heads to his unique skills in both his songwriting and production, and his soulful, smooth and sleazy vibes have landed him releases on such labels as Innerground, Liquid V, CIA and Integral.
With an album out on Innerground, weekly radio shows and a monthly podcast (www.randommovement.org), as well as tours being planned all over the world, things are continuing to be very productive for this year and many more to come.
Releases on Intrigue Music