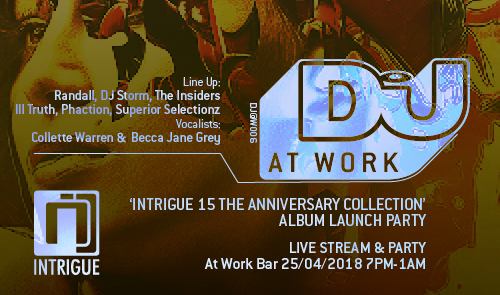 DJ Mag at Work presents d&b label and party extraordinaires Intrigue as they celebrate their 15th birthday, featuring veteran junglists Dj Randall & DJ Storm, plus Intrigue selectas The Insiders, Phaction, Ill Truth & Superior Selectionz. With vocalists on the night Collette Warren & Becca Jane Grey.
Come down and hang with the Intrigue crew, hear some killer d&b and grab a copy of the very special 'Intrigue 15: The Anniversary Collection'. This event will also be streamed live through social media channels on the night!
Preview the album here: https://soundcloud.com/intriguemusic/sets/intrigue-15-previews
*** THIS EVENT IS VERY LIMITED CAPACITY/GUEST LIST-ONLY ***
For your chance to get on the guest list simply sign up here: djmag.com/guestlist
Facebook RSVP: https://www.facebook.com/events/239512369949798/
▬▬▬
Intrigue 15 – The Anniversary Collection
A brand new album to celebrate fifteen years of the Intrigue drum & bass night, featuring fifteen exclusive soul-infused tracks from new stars and established names alike. The series has grown by a track a year since its inception five years ago, and 'Intrigue 15' is without doubt the biggest yet.
Release date: 27th April on vinyl & digital formats
Full album tracklisting:
1. Break – Mind's Eye
2. Ben Soundscape & Superior Selectionz – Justa
3. Lurch & Joakuim – Lifespan
4. Ben Soundscape & Raw Q – Immersion Dub
5. The Insiders – Show Time
6. Roygreen, Protone & Ben Soundscape – Ruffneck
7. Ill Truth & AudioMission – Leng
8. Ben Soundscape – Lying Here
9. Phaction feat. Becca Jane Grey – Rotation
10. Ben Soundscape & Superior Selectionz – Memories
11. Stereotype – Fool me Twice
12. SMP feat. Matt Freeman – Believer
13. Larigold – Dodge The Missiles
14. Atlantic Connection – Vibe with You
15. Roygreen & Protone feat. Julia Marks – Mountains
For more info:
https://intrigue.org.uk
http://www.facebook.com/intriguednb
http://www.soundcloud.com/intriguemusic