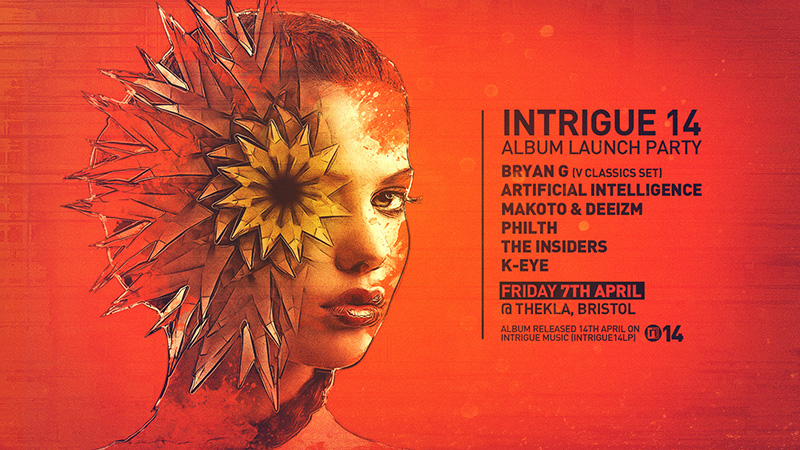 Intrigue 14 Album Launch Party
Friday 7th April at Thekla Bristol
Firstly we would like to thank everyone that made our 14th birthday such a massive event! Brilliant vibes all night long and sold out! Hot on the heels of our birthday comes the launch of our brand new album, 'Intrigue 14'…
'Intrigue 14' features 14 exclusive tracks and remixes from new and established d&b artists, to celebrate 14 years of our club night. Artists include Calibre, Break, Randall, Random Movement, Philth & Collette Warren, Raw Q, RoyGreen & Protone, Joakuim and more. It will be released mid April on Intrigue Music.
To launch the new album we are bringing in four heavyweight DJs! Firstly we welcome scene legend Bryan G who will be playing a set of classics from the V Recordings back catalogue. He is joined by Artificial Intelligence, plus a live performance from Makoto & Deeizm, as well as newcomer Philth. Residents The Insiders will also make a special 'late set' appearance by popular demand.
Earlybirds have sold out, gt your first release tickets now for only a tenner!
Full lineup:
BRYAN G (V Recordings/Liquid V) ***V Classics Set***
Bryan Gee is recognized around the world as the label boss of legendary drum & bass imprint V Recordings and the international DJ with the trademark wide grin who has a genuine love for his job. Thanks to his tireless effort and his endless love for music, Bryan G is one of the most familiar faces on the international DJ circuit and with V Recordings still very much at the forefront of the drum & bass scene he can claim to have achieved far more than most. Now over two decades since acid house changed his musical tastes forever Bryan Gee is still pushing the boundaries and loving what he does -no wonder he always has that trademark grin!
▂▂▂▂▂▂▂▂▂▂▂▂▂
ARTIFICIAL INTELLIGENCE (Integral/Metalheadz)
Superduo Artificial Intelligence are back at the forefront of the Drum & Bass scene in a new era of releases as they continue to carve a truly unique position in the drum & dass scene with their consistently progressive sound. Their debut album for Metalheadz 'Timeline' and the outstanding follow-up EP 'Shrine' which hit the official national charts, are testament to their unrivalled heavyweight status.
▂▂▂▂▂▂▂▂▂▂▂▂▂
MAKOTO & DEEIZM (Japan/Human Elements)
Having first come to prominence in 1999 when he was signed to LTJ Bukem's Good Looking label, Makoto has steadily, consistently carved out his own groove in the world of d&b, with his trademark expansive jazz and soul-inflected workouts garnering critical praise from all corners. Having worked with a veritable who's who of the scene, with releases on Zinc's Bingo Beats, Fabio's Creative Source and numerous collaborations with DJ Marky, Makoto will be appearing with vocalist of choice Deeizm. This is a truly amazing combination and one not to be missed!
▂▂▂▂▂▂▂▂▂▂▂▂▂
PHILTH (CIA/Intrigue)
Philth presents an unpredictable yet assured take on modern drum & bass. Refusing to be typecast to the sound his name suggests, he is equally at home on Spearhead Records as he is Renegade Hardware, both as a DJ and in the studio. Philth combines widescreen imagery with precision engineering, he never loses sight of the dancefloor but retains the human touch with a sound that can touch your soul while rattling your ribcage with a bassline straight out of 1999.
▂▂▂▂▂▂▂▂▂▂▂▂▂
THE INSIDERS (Mac II/Intrigue)
The Insiders have been instrumental in developing the deeper drum & bass scene in Bristol with the Intrigue brand, celbrating 14 years of their club night this month. Fresh from recent tour dates across America, Europe and the UK, they have just released their new single 'Hands of Time' feat. Collette Warren on Intrigue Music. This received big support across the scene and a rave review in Mixmag. More info: The Insiders
Hosted by K-EYE
▂▂▂▂▂▂▂▂▂▂▂▂▂
***Top bar will be closed making for a more intimate album launch in the main room downstairs!!***
▂▂▂▂▂▂▂▂▂▂▂▂▂
Venue: Thekla, The Grove, East Mud Dock, Bristol BS1 4RB
Friday 7th April. 10pm-4am. Last entry 2am.
Tickets:
Super earlybird SOLD OUT
Earlybird SOLD OUT
First release £10
Second release £12
Available now from Thekla – http://www.thekla.club/#event_id=6vwmqmcs
More outlets to be added shortly…
▂▂▂▂▂▂▂▂▂▂▂▂▂
Further info: http://www.intrigue.org.uk/ / http://www.thekla.club/