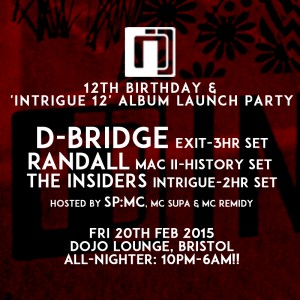 We have just added RANDALL to our 12th Birthday event on 20 Feb, who features on the new Intrigue album with 'We Ramping', produced with Ben Soundscape & MC Supa. He'll be playing a classic history set, not to be missed!! BOOOM! Another new addition is SP:MC, on hosting duties early-doors.
Headlining this special event is D-BRIDGE with a massive 3 hour set. This will be his first appearance at Intrigue in many years, and we are all really excited at the prospect. Joining D-Bridge will be THE INSIDERS, playing a 2 hour set, and residents SUPERIOR SELECTIONZ, MR:L and MILLSTONE. On hosting duties, SP:MC, SUPA and REMIDY.
We are extending the opening hours to 6am. Entry will be reduced to just £5 before 11pm, so make sure you get there early! Tickets are £6 earlybird and then £7
The night is also the launch party for 'Intrigue 12 – The Anniversary Collection', a new compilation featuring twelve exclusive tracks and remixes from Break, Randall, Zero T, Random Movement, Jaybee, RoyGreen & Protone, Lurch, Raw Q, Ben Soundscape, The Insiders & more.
Full lineup information:
INTRIGUE 12TH BIRTHDAY ALL-NIGHTER
+ INTRIGUE 12 LP LAUNCH
FRI 20 FEB 2015 AT DOJO LOUNGE
D-BRIDGE (Exit Records) 3 HOUR SET
RANDALL (Mac II) HISTORY SET
THE INSIDERS (Intrigue Music) 2 HOUR SET
SUPERIOR SELECTIONZ (intrigue Music)
MR:L & MILLSTONE (Deep Space)
Hosted by SP:MC, MC Supa, MC Remidy
DOORS: ALL-NIGHTER – 10PM-6AM
TICKETS: £6 EARLYBIRD / £7 SECOND RELEASE
BUY TICKETS: http://www.ticketweb.co.uk
FACEBOOK RSVP: https://www.facebook.com/events/1577891532446912
FREE LIMITED EDITION 'INTRIGUE 12' MIX CD
FOR THE FIRST 50 PEOPLE! THIS WILL ONLY BE AVAILABLE ON CD, NOT ONLINE.
————————–—–
You can subscribe to our mailing list at http://www.intrigue.org.uk/join-mailing-list/ to be kept up to date with all the latest, as well as the chance to win guestlist to the event….