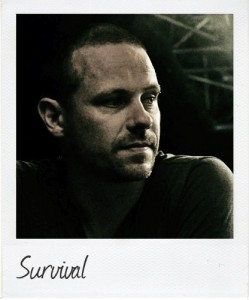 Steve Kielty has been involved in both production and engineering since the inception of drum & bass back in 1993/94 when he kicked off his musical career as a studio engineer. Around this time he paired up with Roy McCabe under the guises of Akustic Research and Banaczech and released on the prolific Vinyl Addiction and Partisan Recordings between 1995 and 2003. Having taken a break from drum & bass to work as studio manager for London's West Row Studios, Steve re-emerged in 2005 under the alias Survival.
With a plethora of well received releases on labels including Creative Source, Exit Records, DNAudio, Quarantine, Critical and Shogun, Survival's deep, organic sound has rapidly earned him a reputation as one of the true craftsmen of modern drum & bass.
Collaborations with D-Bridge, Break, Silent Witness, Fierce, Sabre and Alix Perez clearly illustrate the respect he commands from his peers. With his newly launched Audio Tactics label providing a focused outlet for his productions and a highly anticipated debut album recently completed for dBridge's Exit Records, his fan base is expanding as rapidly as his discography.
Releases on Intrigue Music