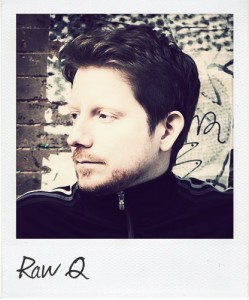 NYC native, Raw Q (aka Dj Beau) has been a dedicated fixture in the North American Drum & Bass movement since 1995. From his roots as one of the founders of Camouflage, an original Jungle Sky, NASA, and Konkrete Jungle O.G., to his recent status as one of Dj Zinc's 'Bingo All-Stars', and current member of the Driven AM family, Intrigue Music crew and resident dj at NYC's premiere dnb events Direct Drive and Natural Selection.
Over the years Beau's DJ skills and impeccable selection has earned him gigs at the world's top Drum & Bass events across the continental US, Toronto, San Juan Puerto Rico, and Bogota Colombia where he's opened for high profile artists such as Fabio and Grooverider, Planet of the Drums, Dj Marky, Marcus Intalex, Calibre, Klute, A.I. and has shared the bill with the likes of LTJ Bukem, Roni Size, Goldie, Shy-Fx, Bad Company and Dj Craze.
On the production tip, Beau first ventured into the studio back in 95′ and teamed up with Dj Ani (NASA, Deee-Lite), where the duo created tunes for Dj Soulslinger's 'Jungle Sky' imprint (the first US Drum & Bass label). Soon after he transformed into Raw Q and blazed forward on the solo tip in 2004 with 'Vital Soul' on Dj Zinc's reputable Bingo Beats imprint which took the Drum & Bass world by storm and was ranked 11th in the BBC's Global Dance Music charts.
With more music in the works and plenty of dj gigs on the horizon, Raw Q soldiers on for the cause of quality music and real vibes, as evident with his latest release the 'I Want Him Dead EP!' on Intrigue Music, which has received support from the likes of Bryan Gee, Dj Storm, Dj Marky, Random Movement and The Insiders.
Raw Q's discography includes: Vital Soul & Funkdefied (Bingo Recs), Jagged Edge (Grid Recs), Caspian Moon & Summer Rain (Influence Recs), Poolroom Poets & Earthdub (Driven Recs) and the I Want Him Dead! EP (Intrigue Music).
Releases on Intrigue Music