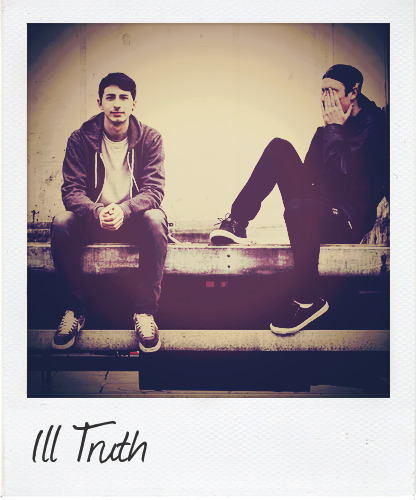 'Ill Truth' are a Bristol based production outfit formed of two members; a mutual love of mixing records in their early college days sparked a musical partnership that kick started their production journey. Over the past four years they have been creating a vast range of music but at its core of it all is the sound of Drum & Bass.
Collectively, their influences have formed an eclectic blend of music which has played a part in their own production and musical identity, on both the darker and soulful sides of Drum & Bass. Experimenting is nearly all sub genres and not confining their sound to one particular corner, Ill Truth has already made a name for themselves across the UK for their versatile production and 'battle like' DJ performances. The Bristol scene has kindly adopted them over the last three years, all flourishing after being scouted by Modify Perspective and welcomed into his artist roster on Liquifyah Bristol. Ill Truth debuted their first set of releases in September 2016 on Lockdown Recordings & Lifestyle Music, two labels that have trusted them into shaping their sound into what it is today.
Since then their productions have gained support from the likes of Noisia, Break, LTJ Bukem, Skeptical, Randall, Doc Scott & Bailey. 2017 holds a string of impressive releases for these guys with music already released on Intrigue Music, Soul Trader & Limitless Recordings & much more forthcoming that will all be revealed over the course of this year.
Releases on Intrigue Music