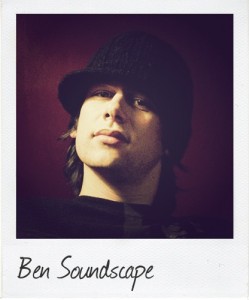 Ben Soundscape started producing his first breakbeat at school at age 17. He remembers becoming hooked on drum & bass when he first went to a club in Bristol. It was around that time he started listening to Fabio & Grooverider's seminal Radio 1 show, and got the bug straightaway.
Danny C was the first to notice him, signing him for the debut release on Blue Box when Ben was just 19. Soon after, Ben formed a duo with childhood friend Joe Wills, later becoming The Insiders. Together they would draw influences from everything from soul, funk and jazz to house, techno and film soundtracks, and go on to release material on some of the greatest labels in the scene. Ben has produced tracks for Creative Source, Renegade Recordings, Metalheadz, 31 Records, Frontline, Defunked, Breakbeat Science, Nu Directions, Good Looking Records (as Catch 22) and Blue Box (as First Light).
Ben is the brains behind Intrigue, the club night started more than thirteen years ago at an intimate venue in Bristol. His vision was inspired by the Swerve nights in London – quality, forward thinking music in a small club. A great atmosphere, good sound system and strong crowd were important qualities he had to build up for years. Fast forward to the present, and Intrigue has become a firmly established and highly successful drum & bass event.
The next step for Ben was to start his own label, Intrigue Music, which was formed in 2009 as an outlet for deep drum & bass. With the quality of music the label continues to release, it's no wonder Intrigue Music attracts major attention and support from both DJs, drum & bass heads and the press alike.
Ben's release schedule is busy for 2017, with the new release of his latest compilation 'Intrigue 14 – The Anniversary Collection', featuring fourteen tracks to celebrate fourteen years of Intrigue. He features on four of the tracks himself, including new co-labs with Randall and Random Movement, alongside heavyweights such as Break, Calibre and RoyGreen & Protone. After that there is music forthcoming on Mac II and more on Intrigue. New collaborations are in the works with Mako, Paramount, Hugh Hardie and Superior Selectionz.
Recent DJ support for Ben's production has come from Friction, DJ Marky, LTJ Bukem, Fabio, Randall, Riya and Storm.
Releases on Intrigue Music